Join a IVSA group exchange!
An IVSA group exchange is an amazing opportunity to meet international students from other veterinary faculties, usually European faculties. Typically, these exchanges consist out of several days to a week in each city partaking in the exchange. 
Participating in an exchange is a great way to look into the life of a student from another country. Exchange programs contain a faculty tour, mostly combined with workshops or other activities. Alongside this, there will be other cultural activities and excursion to learn more about the life as a vet student in another country. Dutch student will host one international student and viceversa when the Dutch students visit the international student at their home.
For example, read about one of the participants' experiences at our recent exchange with IVSA Berlin: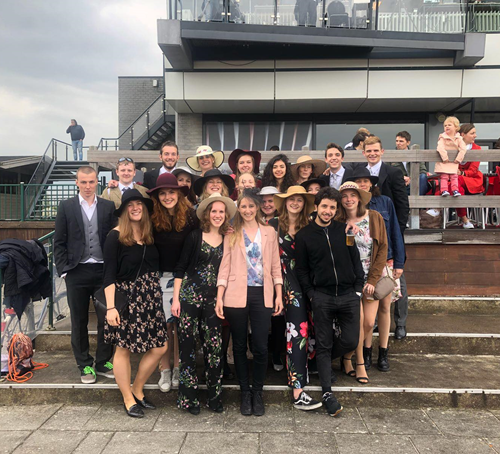 IVSA exchange with Berlin 
Our exchange with IVSA Berlin started on the 21st of April 2018. It can be a bit scary to be thrown into a group of total strangers, but after getting acquainted, everybody felt right at home. We had a boat tour through the city centre, visited Mauerpark and got an amazing guided tour through the Berlin Zoo by the Zoo's veterinarian. In the days that followed, we got a nice look at Berlin's veterinary faculty, enjoyed a BBQ and finally went to a Salsa Night where everybody could show their dance moves. 
Na terugkomst uit Berlijn hadden we allemaal één dagje om wat bij te komen, want een dag later stonden ze alweer bij ons op de stoep. Ze kwamen naar Utrecht in een van de leukst mogelijke weken voor een diergeneeskundestudent. Ze hebben zowel koningsnacht als -dag met ons gevierd, al werd op koningsdag toch ook wel weer bijgeslapen. Ook hebben ze Peerdepieten mee mogen maken. De dresscode bleek in eerste instantie lastig, maar na een paklijst en extra uitleg kwam iedereen opdraven in zijn/haar mooiste pak en bloemetjesjurk. Ze hebben mee genoten van de paardenraces, de mooie receptie en uiteraard het feest. Ik denk dat ik voor iedereen mag spreken als ik zeg dat we allemaal een geweldige week hebben gehad! 🙂